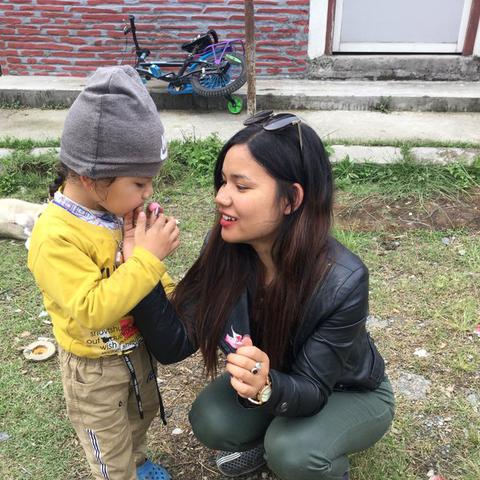 Dear Host Family,
My name is Sapana . I am a young girl woman from Nepal and want to become Au pair for your family. With this letter I would like to give you a first impression of me and my life and my experience with children.
I live together with my father, step mother and my two brothers. My parents are divorced so my mother isn't here with us since 9 years. She is Malaysia and have runs own restaurant there. But I still contact with her through skype and messenger. My father is a proprietor of MS Nirman Sewa. He do the construction work like: Leakage control work, Pipe line extension work. He often bid in tender too. My elder brother name is Manish and he help father in business and younger brother name is Sashant is only 3 years old and belongs to step mother's son. When he was born in hospital, I was the one who take him in my lap first. I hold his little finger and I don't know when I tear up. Small brother is a heart of our family. Small kid light up the house. And from that day I was inspired by kids and I joined Montessori school.
Since 3 years I have dreaming to getting an Au pair in Europe. I learned about the Au Pair Program because there were a teacher of WI Education Consultancy Pvt. nearby Montessori School named Cruz Lama who is a best consular who told us about "Cultural Care", too
At this moment I know, I want to be an Au pair in Europe, because I love children and want to live together with them and a very good relationship with them. Also I want to learn and improve my German language skill and learn something about European culture and folkways. And now I hope my dream comes true.
I describe myself as an open, friendly, organized, loyal, faithful person. Also sense of responsibility is very important for me. I am a helpful person, who laughs very often. Besides I am always punctual, ambitious and patient.
Yours sincerely
Sapana