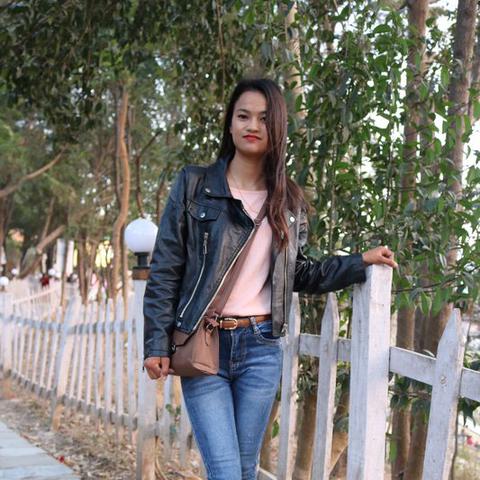 Dear host family,
My name is Bibita . I am 26 years old and from the small city Kathmandu in Nepal. With my parents, Gyan Bahadur (46) and Mina (45), my elder brother Bikram (28) and his wife Jamuna (25). I am living in a house that is located in an area full of nature. We have got one dog whose name is Esnupe and she is so pretty. My father works as a private driver, my mother works as a manager in woolen craft in small factory. My elder brother is working in Project Company as a driver and his wife work as a house wife. Overall, we are a small family and happy family.
I would describe myself as a reliable and caring person, who tries to make the best out of every situation. I like spending time with my friends; they are – as well as my family – very important to me. Always trying to help, I'm always there for them if they need me.
In my free time, I like to listen to music, go shopping or dance. Dancing is one of my favorite hobbies and I am also teaching neighbors children at my house when there is some event. Furthermore, I enjoy reading a good book and singing – even though I cannot sing.
Four years ago I did an apprenticeship as a media clerk in a small publishing house. Before the apprenticeship I completed my secondary school.
For At the moment, I work as a gread teacher in Busy Bee Kindergarten and Baby Care. It was challenging job since you will be take care of children, feeding them, teach them, getting their vital signs, bath them etc. I can really say that I will be very effective during my job. I enjoy this job very much, because I love children very much. I also work as sales person of electronic gadgets at shopping center.
I completed my Bachelor of Tourism and Hospitality Management from KATH (Kathmandu and Tourism Hospitality) college in 2014.
Yours sincerely,
Bibita