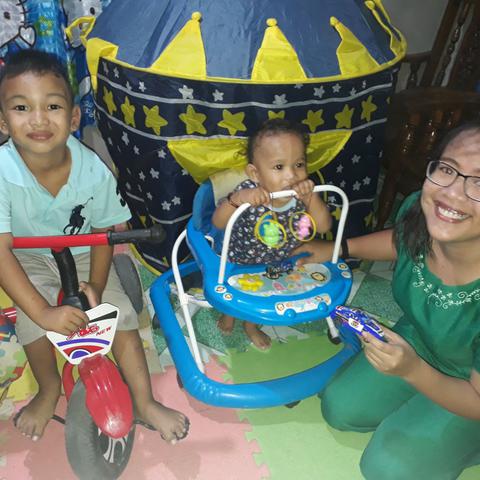 Dear Sir/Ma'am,
Hi family! To know me better, I will introduce myself, my name is Michaela Timothie. I am 21 years old. I am single and don't have kids. I graduated Bachelor of Science in Biology major in Zoology. About my personality, I am happy, easy-going and hardworking person. In terms of my interest, I usually enjoy reading books, listening to music, singing, dancing and enjoy nature by looking at sunsets and do photography about nature and animals. I love animals. I know how to swim. I can ride a bicycle. I am good in English.
I have a strong experience in childcare, because at my very young age, I started to look after my youngest sister and now, I am presently employed as a house servant and babysitter. I started working in this Filipino family with two kids-Mccoy-Three years old boy and Matthew-Nine months old baby boy since July 1, 2019. My daily routine are as follows:
• Go to the wet market to buy food and prepare breakfast.
• Wake up the kids, make milk bottles for Matthew and feed Mccoy.
• Take them a bath, dress them up and put new diaper to Matthew.
• Clean the living room, bedroom, comfort room, kitchen and in the front of the house.
• Wash the dishes and put the garbage out.
• Play with the kids and with their toys.
• Cooking meals.
• Accompany Mccoy when he is riding his bike and Matthew when he is walking using his walker.
• Washing used clothes and ironing clothes.
• Look after two dogs-Kimchi-The color brown dog and Blackie-The color black dog, petting them and giving food and water to them.
• Watering the plants in the garden area.
I have a great interest to become an aupair because I want to experience different cultures, languages, food, seasons and nature while having the opportunity to help a host family.
I hope I have a place in your family, rest assured that I will follow your house rules, respect your family's privacy, finish my contract to your family and be a good big sister to your kid/s.
Sincerely Yours,
Michaela Timothie