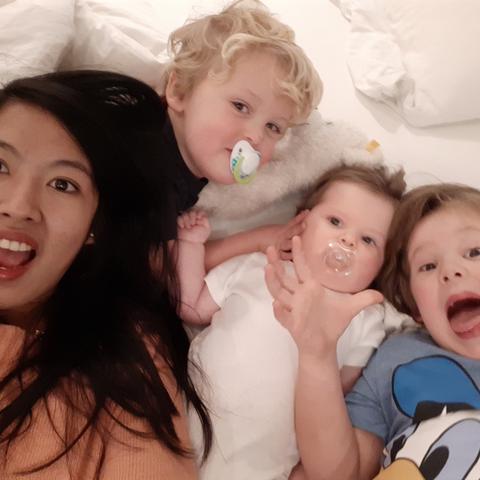 Hello dear family, I'm from Philippines and I'm searching for a new host family to start on end of October 2020 or first week of November 2020.
I am Feli Rose , 24 year old Filipina,I graduated with Bachelor of Science in Hotel and Restaurant Management(HRM)in the Philippines. I am currently an Au Pair here in Belgium in a family of 3, a 2 years old boy and my Host mom is pregnant she will give birth on July for their second kids. And Also I'm previous Au Pair in Amsterdam,Netherland in a family of 5( children 4 years old, 3 years old and the youngest 1 year old) Before I came here as an Au-Pair , I worked as a Food And Beverage Attendant at the Peninsula Hotel for 1 year and 6 months in Manila,Philippines.I am a person with initiative, creative mind, fun to be with, full of stories, simple and loves to be with kids. I adore travelling and learning something new. I'm curious and open to learn. I'd like to improve my English Skills and Learn a new language.
Here is my current Host Family, My day start at 7:15 in the morning attending to the needs of the kid as Giving milk bottles, changing diaper, preparing for his breakfast,cleaning him up and  putting clothes on after that  around 8:00 in the morning usually my host parents are the ones who bring the kid to the creche. Sometimes if my Host parents are busy they ask a favor to me to bring the kid to the creche.I also do Householde chores like loading and unloading the diswasher, tidying up the Kitchen,Laundry(washing,Hanging,folding) changing the beddings, Vacuuming the floor, Mopping, Buy some groceries and Cooking.In the afternoon I'm the one who pick up the kid to the creche normally We went to the playground and play with him and give him a bath the end of the day. My Host parents are the ones who put him to bed 
I hope we can develop a good relationship, working and living together as a family. I am looking forward to be your Aupair and also a member of your family.
Best Regards,
FELI ROSE