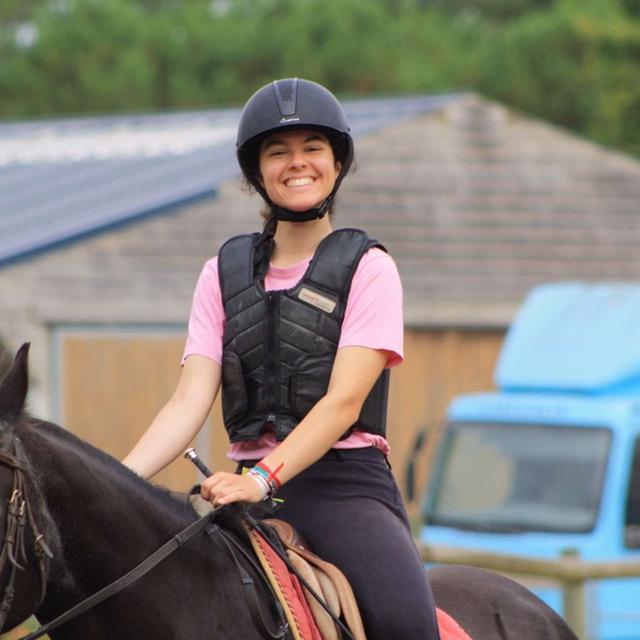 Dear future hosts,
My name is Alyssa . I live in Larmor-plage, in France. I am writing to express my interest to become an au pair girl.
I am available to start on the end of July or in August.
First of all, I am in my final year in a high school in Lorient. I study sciences and literature. After obtaining my A level, I want to do a gap year. During this period, I would like to be an au pair for 6 months and then work in Canada in an equitherapy center for the next 3 months. After this adventure, I would like to study psychology at a university in Brest.
I have many hobbies and interests. I have been practising horse riding for 13 years. I love horses and being in contact with them. I have my galop 5 in France (= BHS stage 2). I am an animal lover : dogs, cats, birds, mice... I love them all ! But the exception that proves the rule: I am afraid of spiders. Moreover, I am an expert in manual activities: sewing, drawing, painting, DIY or modeling clay... I am a good singer, a crazy dancer and a passionate narrator who always has a good story to tell or a funny anecdote about my travels. Another of my talents is cooking : cakes, cookies and other delicious meals have no secrets for me. Last but not least, there is nothing I enjoy more than walks by the sea and afternoons lying in the grass with a good book.
Concerning my childcare experience, I have been babysitter for three years. I have already looked after boys and girls of different ages, ranging from 6 months old to 12 years old. I have also my children diploma with the framing at sea speciality. For instance, I have worked in a recreation center during three weeks. Throughout these experiences, I have been responsible for safety of children. I play and laugh with them. I have also been in charge of managing conflicts, supervising naps and making sure that the meals and bedtime go smoothly.
I hope by this quick presentation, to have given you the desire to know me better and, why not, to welcome me in your life and your home.
Kind regards,
Alyssa